When you are printing or planning to print a t-shirt, you should consider the fact the fact that not every fabric is created equal. You can believe that finding the best fabric for t shirt printing is as important as a canvas is to an artist. Just like a bad canvas can spoil a marvelous painting, a below-standard or bad material can ruin a t-shirt.
Best Fabric For T Shirt Printing
It is important to pay attention to the textiles used for printing. In this article, we will talk about fabrics for a t-shirt and what are the best choices you can get for printing techniques. So, let's see the best kind of fabrics that you can use for t-shirt printing.
Cotton
Cotton is an ideal fabric for both screen printing as well as direct to garment or in short, DTG.
The screen printing consists of the process of applying the ink through silk screens onto the t-shirts' fabric. The ink enters through the fabric permeable areas only. In most cases, screen printers will use inks that are water-based and these inks work fantastic on cotton.
Direct to garment or DTG is perfect when you want to print a high level of color and detail variation. DTG works with the water-based inks only and it works beautifully on cotton.
Polyester
Polyester is the best fabric for transfer printing and sublimation.
Transfer printing is one of the most versatile printing techniques today and they are an ideal choice for almost all material. However, it depends largely on the material or fabric how the transfer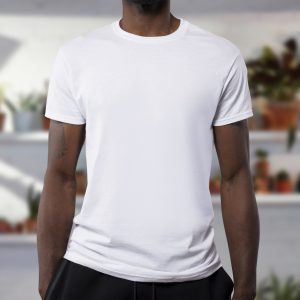 printing will finally look like an end product. Mostly, transfer printings are plastic and they attach very well to synthetic fabrics like polyester.
Sublimation does more than just printing; it melts the pigment onto the fabric. Sublimation is only used on synthetic fabrics. Simply put, sublimation works only on polyester as the color would not adapt to any other kind except polyester.
Linen
Linen can be a good choice for t-shirt printing.
It's a fact that linen is not a very common material for t-shirts. They are used commonly in light outer layers and jackets, but it can also be a good fabric for linen. Linen as a fabric is a lightweight material and can dry easily and quickly; therefore, it can be a good choice for summertime t-shirts.
Rayon
Rayon is a material that is made from the blend of woody plants, trees, and cotton. Rayon was introduced as the silk's cheaper version and is known for its smooth feel. Rayon can be a very good choice for t-shirt printing because it is much similar to polyester. In addition to that, rayon is a perfect choice for outdoor and athletic wear as it is lightweight.
Tri-blends
Tri-blends is the blend of rayon, polyester, and cotton – the three fabric that is ideal for t-shirt printing. This is the main advantage of this hybrid blend, it has all the best qualities of the three fabrics and it can offer a perfect balance between durability, comfort, and style.
Conclusion
It's summer and the best choice for clothing is t-shirts. Therefore, getting the best fabric for t shirt printing is going to make the t-shirt not only stylish but also comfortable. After all, people look for t-shirts that are not just stylish but also comfortable and perfect for the hot weather.