Tractors come in many shapes and sizes. Whatever you purchase is all depended on what you intend to do with it. To help you know what you should go for, tractors names would be a good place to begin. 
Tractor Names
This article is about all kinds of tractors. We will break down the different names and types. By the end of this article, you will know the type of tractor that meets your needs. Although not discussed here, it's recommended you consider a tractor's transmission as well, as it can make a difference in your tractor's performance.
Tractor Types
Generally, tractors are divided into 3 categories. These are;
Their Construction

Their Kind of Drive

Purpose of the Tractor
Construction Tractor
It is more of the construction of the machine that brings about this name. It is further divided into 2 subcategories. In the first one, the driver can sit while driving the tractor. For the second one, the driver walks by the side. It is also known as a walking tractor. Having the proper tractor for your construction project is just one of many tractor safety tips.
Tractor Types by Track Type
In this category, there are two types: The half-track and full track. For the half type, the track is fitted towards the rear. The tires go to the front of the axle. They are mostly used on barren lands. However, they are the ones used for heavy agricultural activities. 
They are also known to leave a big gap between the tracks and the ground. It also makes sure they have powerful traction. Some tasks like dams and others requiring earthmoving will find this kind of tractor very useful. 
Tractor Types by Wheel
Almost two decades ago, three-wheel tractors were the popular choice. Recently, they have been replaced by their four-wheel brothers. Tractors in this type are best for fast-moving in short distances. 
Tractors in this category fall in a range of groups as discussed below;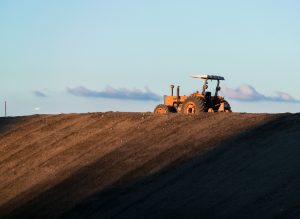 Utility Tractors:The

utility tractor is best for general ploughing

and moving equipment around. Framers will find this tractor useful, especially where they cannot afford to buy other powerful tractors. 

Industrial Tractor: They are also known as tuggers. They are optimized for lifting loads. 

Earth moving tractors: These are heavyweight machines. You can choose to go with the track or the wheel type. Just like their name suggests, they are biased for earth moving. You will see them mostly in a quarry, and other heavy construction works. 

Rotary Tillers: These are a type of walking tractors. They are used in small and hilly fields with varying heights. It is such fields where big-size tractors are not appropriate. 

Garden Tractors: These are small tractors with horsepower in the range of 1 to 10. They are useful for small gardens and flowerbeds. 

Orchard Tractors: These are specialized tractors. They are only used in orchards. The top is raised so that the driver can easily pick fruits while seated. There are no external parts; hence, it can easily pass in between trees. 
Bottom Line
In addition to learning tractors names, you also know the different types. Each type of tractor is best suited for specific roles. Remember to always perform routine tractor maintenance to ensure yours is safe to use. What do you need a tractor for? Pick the one that works best for your needs.