Are you planning to surprise your loved one with a special gift? Planning is very important to ensure that your attempt at surprising someone isn't ruined by something that you can control. You have to make sure that the surprise gift is indeed a surprise for them. If you have already tried to give a surprise gift to your partner but failed, then you must try some other ways. Here are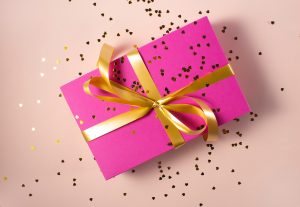 some of the best and most creative ways to give a surprise gift.
Creative Ways to Give a Surprise Gift
Some creative ways to give a surprise gift include creating a treasure hunt, pack the original gift in a prank box and many more.
#1: Create a Treasure Hunt
Treasure hunt can be a great surprise for you. The main goal of this treasure hunt must be the surprise gift; but that will not be revealed at all. The goal is to receive clues to reach another location where the person will receive another one before reaching to the location of the gift. This can be done by planting some cue cards at specific locations.
#2: Pack the Original Gift in a Prank Box
You need to pack the original gift that you want to gift someone in a prank box. This will make them wonder whether or not there is really any product as such in real life. If you want to gift a phone to your partner, giving the box will make them excited but not surprised. Pack that phone in a box that belongs to a different product like baby powder or a box of ear wax candle. When he/she will take out the actual gift from the box, they will be surprised and stunned at the same time.
#3: Surprise Them with a Clue
This is a perfect one if you are planning a surprise vacation for your boyfriend or girlfriend for a special occasion, holiday such as Christmas or Eid, etc. Gift the partner a calendar that blocks the dates of travel with the airplane stickers, vacation stickers and passport stickers. This will imply that these dates are booked for travelling, but do not reveal the location. It will be a complete surprise for them.
#4: Surprise Them with a Visit
This is applicable for the couples who stay in different locations and want to go on holiday randomly or for an occasion such as Christmas, Ramadan, etc. This can be a complete surprise for them. Be available for the person like normal, so that he/she doesn't have the hunch that you are busy with something. Plan the flight in such a time when your partner is either sleeping or busy at work and pack up everything that they'll need in advance. Your phone will be switched off in the flight and it can be something to doubt. You can even call your partner and talk casually like you are going with your friends and your phone is about to die. You will call him/her back as soon it is charged fully. This can be a great surprise for them.
Final Words
These are some of the best creative ways to give a surprise gift. Although, you need to avoid some of the mistakes such as pranking your friends or partner in a bad way on their big day. Also, you have to master the art of self-control. People tend to reveal a part of the surprise in excitement. You shouldn't do that, and keep it as it is instead. Spoilers or hints can reveal the gift gradually.