Engagement photo sessions are special because they allow you to connect with clients before their big day. Even more so, there's often much less haste and pressure during the engagement shoot than there'd be during the wedding day. As such, you should grab the opportunity to impress your clients with your photography. Here are a few tips for shooting engagement photos.
Tips for Shooting Engagement Photos
When it comes to engagement sessions, it's important to help your clients feel comfortable in front of a camera before their upcoming wedding. There are ways to adjust their poses without making them feel uncomfortable. Here are some tips to help your clients look and feel their best:
Turn the Shoulders
The shoulders are typically the widest part of a person's body so they often set the tone for the photo. Photos, where your subjects have their shoulders turned slightly, are often more flattering. To achieve this, either have your subjects lean a bit forward to reduce the width of the body or perhaps ask them to turn slightly.
Not Everyone is Comfortable with PDA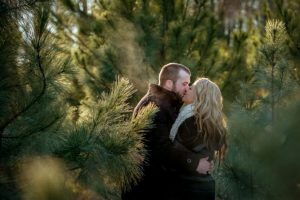 Engagement photography is about capturing the love between two people. While it's important and necessary to ask the couple to kiss, hug, be playful, silly and hold hands, not everyone is comfortable with public displays of affection. If that's the case, be creative and find alternative ways to make the photos more intimate. Romance doesn't have to be captured during an intimate gaze or a kiss. For instance, you can make a couple feel connected by taking photos of them doing something they both enjoy, such as playing board games or horseback riding.
Do Change Your Perspective
While there are a couple of obvious poses, there's no harm in changing your perspective to create a more flattering composition. Think outside the box and don't be afraid to try new shooting angles. Embrace your creative side and you'll be surprised at how easy it is to come up with unique photos. Keep things fresh and allow the clients' personalities to inspire the vibe of the shoot.
Don't Criticize What Isn't Working
People are unique and not every pose will work well for every couple. If a position makes a couple seem awkward or perhaps is not flattering, it's important not to be critical of the client. Feel free to give direction or jump in and show the couple how to pose, but don't force it to happen. If you've rearranged a pose and it still looks uncomfortable to them, snap the photo and move on. You don't want to make the client feel inadequate and ruin the remainder of the session.
Bottom Line
Follow these tips for shooting engagement photos and you should have a successful shoot. Seek inspiration everywhere you can find it and adopt a custom approach for every project. It also helps to have a great time. Be positive, show interest in the couple and their story and they'll be more comfortable around you.