Your fountain pen may occasionally write scratchy or dry due to poor ink flow. Fortunately, a few tips should help you fix this problem so your pen writes as it should. Whether your fountain pen is new or used, it helps if you know why it's either scratchy or not working at all. So, why is my fountain pen not working?
Why is My Fountain Pen not Working
Fountain pens are different from ballpoint and rollerball pens, which means there are different parts and reasons why each won't work. In this article, we'll highlight a few reasons why your pen may be writing scratchy or not writing at all. We'll also discuss a few tips on fixing your pen when it's not working as it should.
Flushing Your Fountain Pen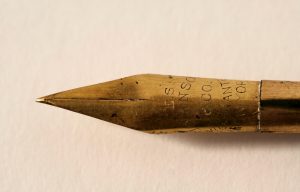 Your pen may not be working due to a partially clogged or fully clogged feed system. A used pen can dry over time and clog the feed system, while a new pen can come with sediment in the pen. This is why it's important to clean your pens. Your first step, therefore, is to flush the feed with warm water. This is likely to vary with the type of pen, depending on whether you're cleaning a piston style fountain pen or a converter/cartridge fountain pen. The easiest way to flush any dried ink or small particles from the system is to run warm water through the pen. 
Prime the Ink
A cartridge converter style pen allows you to prime the ink. If you're using a cartridge, all you need to do is unscrew the grip section before compressing the cartridge to force ink through the pen's feed system. If you're dealing with a converter, twist the converter a bit until ink appears.
The Type of Paper You are Using
Different kinds of paper will accept ink in different ways. For instance, some paper will not absorb ink very well while other papers will absorb too much ink and create bleeding. As such, a paper that easily absorbs ink will create thicker lines than one that poorly absorbs ink. Some papers are ideal for fountain pens while others aren't.
Type of Ink
Ink flow will vary depending on the type of ink you're using. Some inks are self-lubricating while others may clog your pen's feed system and make it write poorly because they contain particles.
Bottom Line
Once you have an answer to the question: why is my fountain pen not working? You can use the tips mentioned above to fix the problem. However, it's important to bear in mind that fountain pen nibs come in all shapes and sizes. A finer nib results in finer lines and less ink used but it will also be scratchier than a wider one since there's less ink to lubricate the nib when writing.