Screen printed t-shirts are quite in fashion these days. This type of t-shirt is a great way to show love for certain team or person or to advertise any event or business. The screen printed t-shirts are also used as a souvenir item. Though the popularity has increased now, the use of these t-shirts can be dated back to the early 1960s. If you love to wear these t-shirts, you have to know something about taking care of it too. So, if you are thinking how to wash screen printed shirts, then we are here to help you. Taking good care of these screen printed t-shirts is essential to keep it intact and new forever.
How to Wash Screen Printed Shirts
If you have a screen printed t-shirt, then you have to be very careful about how you handle it. You cannot treat the garment just like any other shirt or t-shirt.  You need to keep some of the care tips in mind when washing or drying it. Here are these tips:
You have to wash screen-printed garments inside out for protecting the screen print from any kind of abrasion.

You must wash the screen printed shirts with the

garments

that are made of similar fabrics to decrease the lint transfer and pilling.

You have to use a very mild detergent while washing the screen printed t-shirts.

You must wash the screen printed t-shirts in cool water and the temperature of the water must be below 90 degree Fahrenheit to keep it safe and intact.

You must lay the cloth flat or hang it to dry.

You have to use the cool iron to release the creases and you must keep the garment inside out while using iron on it.

You must iron the screen printed garments keeping them in between two pieces of cloth for protecting the design.
Things to avoid
There are certain things that you must avoid when you are washing screen printed shirts. As much as it is important to know the dos, it is also important to know the don'ts to take care of the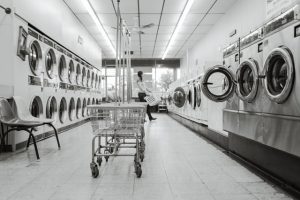 garments properly. Here are some of the things that you must avoid:
Never ever choose dry cleaning service for the screen printed t-shirts as the chemical used in this process can be harmful.

Avoid using bleach, especially the chlorine bleach as this will cause discoloration of the

fabric threads

.

Never ever use the fabric softener on the screen printed tees and shirts as these can degrade the ink used on these garments.

Do not use the steam function when you are ironing the screen printed garments.
Final words
So, these are some of the important dos and don'ts that you have to follow when it comes to screen printed t-shirts. One of the most common and frequently asked questions is about how to wash screen printed shirts. Now, you know the details about it and how you can take care of it while washing it and after washing it. Make sure to follow these to ensure that your screen-printed t-shirt will last for a long time.