The workplace is a great place to raise funds for a good cause. An office fundraiser also gives you the opportunity to spend quality time with colleagues while taking a break from work. But just because the fundraiser will be in the workplace doesn't mean it has to be plain and boring. You can incorporate some fun and easy charity fundraising ideas in the workplace to your campaign.
Charity Fundraising Ideas in the Workplace
Fundraising is greatly important in order to fund nonprofit charity organizations. In this article, we'll discuss a few charity fundraising ideas for the office. They're simple ideas you can implement without spending too much.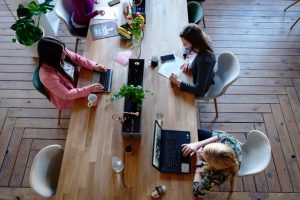 Lunch and learn
Invite your workmate to bring their own lunch and find a spot for an informative lunchtime talk. Invite interesting speakers from within the office or from your network and ask everyone for a small donation to attend the event. You can ask the speaker to pick an interesting topic that will stimulate the minds of the audience. Consider styled presentations to keep the energy in the room.
Competitive karaoke
Although there are many different ways to fundraise, a great fundraising idea is competitive karaoke. Bring out some mics and some great tunes for a good cause. Come up with a system to create
teams or let people compete as individuals then rate performances to determine who is the karaoke champ. Ask for a small donation for people to attend and participate.
Hold a Sports Day 
Test your colleagues' physical fitness and endurance with a day of fun and games. You can have teams compete based on their departments and include games ranging from egg and spoon racing to volleyball and tug of war. Ask for entrance fees that will go to charity. This is also a great fundraising idea for high school sports. 
Office Bring-a-dish
Take a break from the regular sandwich snacks by selling tickets to an office bring-a-dish. Ask people to make an old family recipe or pick a theme and bring your colleagues together for a relaxed lunch. You can ask participants to auction off their creative recipes to raise more funds.
Baby Photo Challenge
You probably see your colleagues five days a week but chances are you can't match them up to their baby photos. This is a great way to raise funds for your cause. Simply ask your workmates to come with their baby photos and run a baby photo game. Ask for ticket entry fees and whoever matches the most photos wins a prize.
Office Bar Quiz Night
In order to get the benefits of fundraising, it is important to hold an attention grabbing event. Nothing can get coworkers to relax and hang out like a little friendly competition at the bar. Be sure 
to charge entry fees to participate and split into several teams. All you need to do is grab a drink and hold a competition to establish who in your office has the best command of general knowledge.
Jumble Sale
Ask your workmates to bring their old home decor, books, old clothes, etc. to work for a jumble sale. Consider asking for a percentage of the proceeds to go to a good cause or charge an admission
 fee.
Bottom Line
There are many effective fundraising strategies you can follow to raise money; just as there are plenty of fundraising ideas in the workplace that can you can exploit to raise more funds for your cause. The trick is to go for something unique that people will enjoy. Other options to consider include raffling off a day off of work or asking for a matching gift.