Planning a wedding is no easy task, and getting the best photographs is often a top priority for most couples. Your wedding photos are what will remind you of your big day for the rest of your life. Getting the best wedding photos is, therefore, crucial. Hiring the wrong photographer may eventually end up in disappointment. Here are a few tips on how to get the best wedding photos.
How to Get the Best Wedding Photos
When it comes to wedding photos, you'll also want to plan for engagement photos too. That way you can send out photos with your wedding invites. Below are some tips to help you nail your wedding day photos.
Select a Professional Photographer
You want to start by hiring a professional wedding photographer with the skill and experience to do a good job. Just because someone owns a camera doesn't mean they have the skills necessary to shoot a wedding. Do your due diligence to ensure you're hiring the right professional photographer. Check out their portfolio and go ahead to look at reviews, ask questions and check their references.
Consider Doing a First Look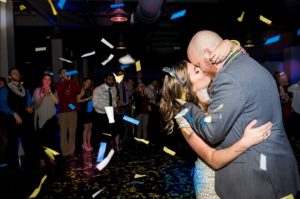 If you'd like to get right to the dance and don't want to miss the cocktail hour, then consider doing a First Look. In addition to being an intimate moment when you get to see each other before exchanging your vows, it allows you to have plenty of the formal photos taken before the ceremony as well. This ensures your hair and make up look fresh for photos and also gives the photographer ample time to shoot those formal shots.
Have a Timeline
A wedding coordinator can coordinate between you and the photographer to help come up with a wedding timeline. If you don't have a coordinator, some venues will offer some expert to help you determine how much time you'll need to accomplish the list of photos that are most important to you.
Make a Shot List
Working without a shot list can be stressful. Make a list of groupings with people's names and you can cut down on time to gather people. You want to keep the list reasonable based on what you plan to do with the photos afterwards. Perhaps a small grouping of close relatives or a large group photo is all you desire to limit the time for formal photos.
Body Language
You can always employ several tricks to showcase your best side. By turning your torso 45 degrees towards the photographer, you can get a flattering angle of your stomach. If you're self-conscious about a double chin, touch your tongue to the roof of your mouth while holding your head up and pull your chin slightly forward.
Trust Your Photographer's Instincts
Your photographer will use the shot list to organize different groups and determine how much time should be allotted. Rather than giving the photographer too many Pinterest boards, trust their vision to capture what they feel looks best.
Bottom Line
That's how to get the best wedding photos. Just remember to relax and enjoy your day, as you did in your engagements. If you're feeling stressed out, it's likely to show. Try not to worry too much about minor details such as bad weather at the photo location.