If you are looking to do some fundraising for your school, church, community center, or charity then you are probably in search of a way to make your campaign unique and interesting. The more fun people have at your fundraising event, the more likely they will be to donate. Incorporating that fun into your event in the form of quirky event games and activities can also turn your funny fundraising ideas into something special that people will love.
Funny Fundraising Ideas
Coming up with fundraising ideas to raise money can be challenging though. With different fundraising strategies to choose from, you can consider hosting a funny fundraising event. People will generally be bored of the more common activities and may be looking for something a bit more left of center. So here are a few quirky fundraising ideas that might work for your next charity event.
1. Augmented Reality Treasure Hunts Using Smartphones
You can find many smartphone apps that let you run augmented reality treasure hunts. These will generally use the GPS functionality of your phone to display an animated graphic or 3D model at a particular location in the real world. The treasure graphic is seen when the participant looks at a particular point through their smartphone camera and screen, with the graphic blended into the background of the real world. You can also use augmented reality to drop clues and hints that lead participants towards the prizes.
2. Pay to Have People Thrown in Jail
Have someone at the fundraising event dress up as a police officer. Set-up some jail areas and let people pay to have their friends arrested for five minutes or so. You can have your jail areas decorated with fake jail bars and arranged as photo booths where the people paying for the arrest can take pictures of their jailed friends.
3. Run Animal Races
Draw a large circle in an open area and then place some slower-moving animals in the center. Give each animal a number to identify them. The first animal that reaches the outside of the circle is the winner. You can do this with a variety of different animals, including young kittens or puppies and local wildlife such as crabs or lobsters. You can also use insects such as cockroaches.
Take bets on which animal will win and give the winners a prize or part of the pot. You might need to be careful that you don't violate any gambling laws running this contest though.
4. Do Balloon Popping for Prizes
Buy a few packs of balloons and some prizes to give away. The prizes can be home-cooked food or other items donated by event volunteers. They can be prizes donated by local businesses. Or they can be prizes purchased for the event. Assign a code to each prize and put them up on a shelf on display at your event. Then write each prize code down on a piece of paper and put it in a balloon. Write down funny phrases, jokes, bits of amusing advice, or quirky fortunes and put them in the rest of the balloons. Have people pay to pop a balloon in order to win the prize associated with the enclosed code.
5. Set-up Mystery Box Prizes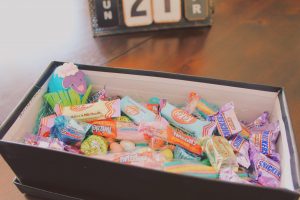 This works similarly to the balloon popping activity but involves the code or prize placed into a fancy cardboard box. You and volunteers can set a time to create mystery boxes for your fundraiser. Get people to pay to open the box and receive a fun prize.
In Conclusion
These are just a few ideas to get you started. You can also sell discount cards at your school to help raise funds, and help out your community. Some fundraising tips are to plan ahead and set a goal. Brainstorm with the rest of your event volunteers and see what other funny fundraising ideas you can all come up with. With a bit of resourcefulness and a playful sense of humor, you should be able to turn your next fundraising event into something that your visitors will be happy to donate to.