When you decide to make jewelry, there are several tools, supplies, and components you'll want to have ready. Jewelry making can be so much fun and you don't have to spend countless hours to learn the art. Thanks to online tutorials and videos, you can learn how to make jewelry in as little as an hour or less. Here are some of the best tools for jewelry making you'll need to get started.
Best Tools For Jewelry Making
This is critical as a jewelry making tool, especially if you'll be working with beads. Chain nose clippers can be quite useful when you need to open and close sterling silver jump rings, for example. When opening and closing a jump ring, they allow you to twist them open and closed rather than pulling the ends apart. This work hardens them and prevents them from getting misshapen.
If you'll be beading, consider purchasing pliers with spring handles. These types of handles are much easier on your wrists as they allow the pliers to spring open on their own whenever you close them.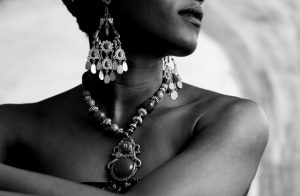 If you opt for a kit of pliers, you can use the chain nose pliers along with the flat nose to open and close jump rings without having to purchase a second set of chain nose pliers.
Making jewelry requires cutting tight places. For instance, when snipping off extra wire after crimping the end. When beading, for example, the extra wire can be snuggled up between the crimp and the last bead, which is a very small space to work in. If you purchase a plier kit, side cutters can come in quite handy, but having ultra-fine point nippers is also a good idea.
When it comes to jewelry making, crimping pliers are a must-have tool. They are used to close crimps at the end of necklaces to secure beads or other pendants on stringing wire. They're also simple and easy to use and some come with interchangeable dies to meet your needs.
Jeweler's glue can be used to secure those knots that tend to unravel over time. The extra support from just a drop of glue or adhesive can keep the knots secure for up to a year or longer. It's a great purchase as a single tube or bottle can go a long way.
This is not exactly a tool but it's equally as important as any other tool used in jewelry making. Stringing wire is an essential component when planning out your jewelry project. There are plenty of options in the market but the most important factors to consider are the strength and diameter of the wire. The diameter is crucial because you need beading wire that will fit through the beads or any other additions to your jewelry. Strength is critical because you need wire that's not only durable but also able to handle the weight of the beads, for example.
Bottom Line
With some of the best tools for jewelry making, you can start making your own jewelry today! Enjoy the experience and within no time you'll get the hang of it.