Choosing a fundraising idea for your corporate event is sometimes difficult. Whether you plan the event yourself or hire a professional company to do the fundraising, it helps to know the different ways you can raise money. Here are a few corporate fundraising event ideas to bear in mind the next time you're organizing a fundraiser.
Corporate Fundraising Event Ideas
Fundraisers are important events, therefore it is important to run it properly to ensure success. Below is a list of different corporate fundraising event ideas to hold.
Balloon Pop Off
This involves putting a slip in each balloon that states the prize to be won for popping that balloon. You can use the company hall or cafeteria for this event. Purchase fun items at wholesale stores or ask employees to donate prizes ahead of time. Charge a participation fee that allows participants to pop as many balloons as they can or a small fee per balloon that someone wants to pop.
Bingo Night
Bingo can be a great way to raise funds. Set up bingo night for employees and charge a small donation at the entrance for each bingo card received. Make things interesting by offering fun prizes for the winners.
Bowling Tournament
Contact your local bowling alley to set up a date and time for a corporate fundraising bowling tournament. Ask employees to compete in teams and set pledges for pins knocked down, winning teams strikes made, and so forth. Employees can make pledges based on how you've set up the event or ask volunteers to simply make a one-time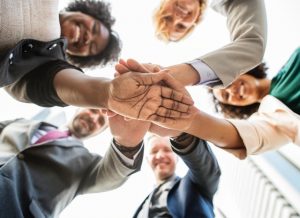 donation. Offer a fun prize for the winning team and collect pledges and donation afterward or on a specific day at work.
Company Picnic and Raffle
Hold a company picnic where employees and families can buy raffle tickets. Ask people who will be attending to create a great meal which everyone can partake. You can also spice things up with fun events like pie-eating contests, races or other activities to make it a great time for everyone and increase participation. This unusual event will draw quite the donations.
Competitive Events
Create an event in which different departments of the company compete against one another. There are countless variations you can use. See what types of sports or events interest most people and decide what will work best for an exciting competition. Consider asking for pledges or donations before the event.
Employee Dance
You can hold a company dance at an appropriate location and charge a small ticket fee at the door. Ask employees to invite their friends and family to attend. Consider offering drinks and snacks that attendants can purchase while they're at the dance.
Karaoke Night
Host fun karaoke competitions and charge employees and/or family members a small admission fee to compete. You can also serve drinks and snacks. Publicize the event by inviting local stars and celebrities to compete and make the event more interesting.
Bottom Line
Choosing a fundraising idea largely depends on what you're attempting to accomplish. The trick is to choose corporate fundraising event ideas that will align with your fundraising goals and expectations. For instance, some fundraising ideas need more planning than others so you'll have to start planning earlier.