Winter is not the time to lock yourself in the house. From traveling to the snowy Swiss Alps, or visiting a metropolitan area; you are guaranteed to have a great time. Although traveling during the winter time is very exciting, having to pack is not fun. This article will give you everything you
need to know about what to pack for winter vacation.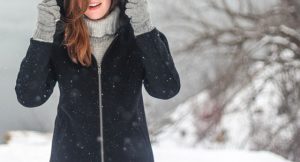 What to Pack for Winter Vacation
Layering for Warmth
Remember, in order to keep warm you must layer your clothing. This means you should have long-sleeve tops, paired with a coat, add a scarf and some gloves. All of these layers will ensure that you stay warm in the cool weather.
A great way to fuel your adventurous winter spirit is to stay warm. Remember that you will be spending most of the time outdoors, so remember to pack as many warm accessories as you can. Include gloves, socks, woolen hats and earmuffs in your winter vacation essentials.
For clothing articles make sure you pack long-sleeve tops, long pants, sock, undergarments, sock, and warm pajamas.
Preparing for Unpredictable Weather
Winter weather can be unpredictable. Some days there will be heavy snow, and other days will be filled heavy rain. Hence, you must prepare with waterproof coats and boots. Bring a few versatile coats, this will help you be prepared for any unpredictable weather.
Consider the Destination
Different winter destinations have different conditions over the winter. In Northern Europe for instance, you will still want to brace for snowy and icy weather, while the rest of Europe will have tolerable weather.
Keep Your Skin Moisturized
As a winter vacationer, staying warm is not the only thing you have to do – your skin will also need special attention. The cold weather often leads to dry, so it's essential to pack a bottle of moisturizing oil or body cream.
If you are staying at a hotel, it is likely that they will have products to cleanse your hair. If you do not prefer hotel products, it will be in your best interest to bring your own shampoo, conditioner, and body wash.
A winter traveler's packing list includes warm clothing like coats and jackets and accessories such as warm socks, gloves, and hats. Essentially, you must pack anything that will keep you warm and easy to travel with. Hopefully this article helped you decide what to pack for winter vacation.