Whether you are looking for a first job or in between jobs at the moment, there are many things you will have to prepare to make yourself suitable and ready for work. Get organized and ready with some of these job search tips anyone can easily follow.
Job Search Steps
Prepare or Update Resume
If you are fresh out of school and have no work experience, you will need to write your resume in a way that shows what all of your best skills are and the ways that you learned or showed those skills to your fullest potential. It doesn't matter if you were the Student Body President or Head of the class in culinary, any skill or experience that shows you are able to follow a list of responsibilities is key to include in a resume.
For those who are looking for a career or a company, the change will need to update their resume to the most recent job held. Bring up to date all of the names, titles, phone numbers or even your email and home address. Now, resumes include social media handles and tags for more information and personal reference.
Keep in mind that all of your experience, skills, and knowledge need to be viewable at a glance on one sheet of paper or internet page. Employers want to see a clean, clear and organized resume that gets straight to the point of telling the employer that you will add value to their company. This is why it is important to update a resume and keep only the jobs that were held the longest or have the most relativity to the job you are looking for.
Apply for Jobs
It is almost impossible to not find a job with technology at the fingertips. There are multiple job searching platforms that can help you narrow down your search to locate all the jobs within your requirements and skill set. In the past, you would have to print out a stack of resumes and hand them out to businesses you hope will one day hire you if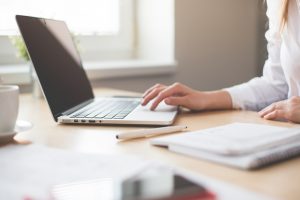 they ever needed the help. Now you can just scroll and click without leaving your house and have an interview the very next day.
Practice Interview skills
Going on an interview is a lot like auditioning. You think you know what to expect, but you really don't. Initially, you may think you're absolutely prepared until you've hit traffic, spilled coffee on your only dress pants or forget you're own name upon shaking the employer's hand. One thing you can at least try control in advance is your nerves. Practicing how to answer the basic interview questions and anything else you plan on saying will help the nerves subside a bit.
Look up the most common interview questions (lists range anywhere from 5 to 30, so good luck) and pick a handful that you can practice. Other aspects you'll want to become confident in are your introduction, previous employment information, and body language. It isn't silly to practice in front of a mirror for job interviews. As I've previously mentioned, you don't want to stumble or stutter when asked your name and age.
First-time job hunters will really benefit from these job search tips as it outlines the basic interview skills everyone should need. For those who are in between jobs, these tips are good to help you remember what exactly is expected of you when looking for a job.