EID is the time to celebrate with family and friends. After a long Ramadan season, this the time when Muslim brothers and sisters can let their hair down and indulge in good food, social gatherings, and gift sharing. EID Mubarak is even a word that means "blessed celebrations." You can be a blessing to a friend, a brother, sister, father, or mother by getting them a unique gift. Family and friends will be expecting something, but you can surpass their expectations with the below EID gift ideas.
EID Gift Ideas
A Thawb or a Shawl
You can choose some unique dresses for your family and companions. You will have to know them well to get correct sizes and styles to their liking. There are salwars for ladies weaved with adornments, while Muslim men wear a thawb. Dress shopping can be a taxing endeavor, so most people choose to go with accessories like the Pashmina shawls. Pashmina shawls are made from luxurious fabrics like cashmere and silk and can sync well with any outfit.
Asian Spices and Herbs
EID is a period for sharing amazing and tantalizing meals. However, what does it take to achieve the mouthwatering taste of these dishes? If you ask, you will find that a lot of Asian spices and herbs go into the formulation of the culinary flawlessness of EID meals. If you can manage to lay your hand on some of these spices, then we think you don't have to look any further for EID gifts — especially for the cook in the family.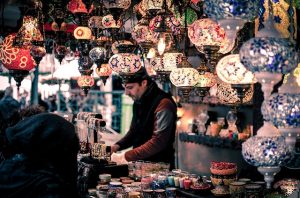 Arab Home Decor
All Islamic art and architectural pieces are deeply established in culture and religion. You can find for your loved ones Middle Eastern decor to bring home Mecca glamour. It could be something as simple as a wall tapestry from Saudi Arabia or a carpet from Morocco.
Your Availability
We are always caught up in the ups and downs of life. Work and school can keep us away from those who matter the most – our family and friends. Thankfully, EID is a chance to slow down and gift time to all those who matter. You can take that time to nurture relationships, to share laughter and make memories.
Cookies and Bread
Sumptuous baked dishes are another way to put a smile across the faces of your loved ones during EID. You only have to spend a day putting to good use your baking skills, and when you ring the door at your friend or family's, you will be bearing a basket of delicious gifts.
Jewelry and Watches
Watches, necklaces, and bangles are a few of the sparkling gift options to bless your wife, husband or loved ones on EID. One way to make sure the recipient cherishes your gifts is to infuse their personality in them. You might have to get custom jewelry which you can engrave their names or symbols on the trinkets and choose what type of material of gold you'd like it in. Such a personalized gift goes a long way to say "thank you for being in my life."
Bottom Line
Blessing your loved ones with gifts isn't obligatory on EID, however, when you bestow meaningful gifts unto others, you will make them feel appreciated and open doors for more good things to flow into your life. Unique EID gift ideas include shawls for the ladies and thawbs for men, Asian spices, Arab home décor, your own time, gems and watches.